Quite simply, MUGA surfacing is the very best way to get the most out of one particular area. MUGA is short for multi-use games area and allows you to incorporate as many sporting grids as you like on one surface. Why just have a basketball court when you could use it as a football and tennis surface at the same time? MUGA surfacing is particularly popular with schools and in parks where space is at a premium. With BituChem, you can have all this for a great price and transform your surfaces in no time at all.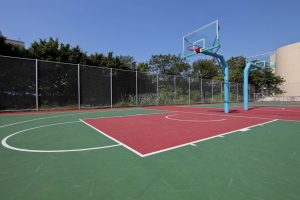 All Purpose MUGA Surfacing
No matter what time of year it is or the weather, our hard landscaping products can be laid and ready for use in less than 48 hours in some cases. Our resin bound Natratex and Colourtex products are fast drying and some of the most durable products available on the market today. They are also designed to be non-abrasive making them ideal for MUGA surfacing as this reduces the damage if someone trips or falls. This is also why our products are widely used in schools as it offers children an extra layer of protection.
Ask Us About MUGA Surfacing Today
Nobody in the UK offers better MUGA surfacing solutions than Bituchem. The quality of our hard landscaping products is only matched by their value and there is a huge range of colours to choose from. We have vivid blue Colourtex products along with more natural looking Natratex products. However ambitious your plans or whatever size budget you have we will do our very best to find the best solution for you. If you would like to know more about MUGA surfacing or any of our other products please feel free to get in touch with us for more information.
Knowledge Hub
Learn more about MUGA surfacing and vibrantly coloured hard landscaping through our dedicated Knowledge Hub. Can't find an answer to your question? Take a look at our FAQ page or contact us to speak to our team.