Coloured Tarmac Alternatives from NatraTex
NatraTex offers the best coloured surfacing product on the market. Whether you're looking for a new surface for your coloured driveway, a decorative paving, or a coloured school surface, NatraTex has the product for your installation.
The history of NatraTex spans decades — from the original founding of the BituChem Group right up to the current day. Throughout this history, our experience and knowledge has only grown, as has our wish to innovate.
Now, we take this innovation to the next level: by leveraging our forward-thinking outlook into ensuring that we can offer sustainable, ecologically friendly products. Because of this, we now offer ecologically friendly alternatives to coloured tarmac products, such as our NatraTex Eco installation – which is suitable for decorative paving, coloured school surfaces, and dozens of other applications.
However, while we have built a new range of ecologically friendly products, we have not negated our original products. The Natratex Cotswold and NatraTex Colour ranges of colour tarmac alternatives are still the best alternatives to traditional tarmac and asphalt.
NatraTex Cotswold is a beautiful coloured tarmac alternative, one that creates a classy, conservative finish that is ideal for estate roads, asphalt driveways, and public spaces. The surface comes in a single, sand-like colour that draws attention to itself without appearing gaudy.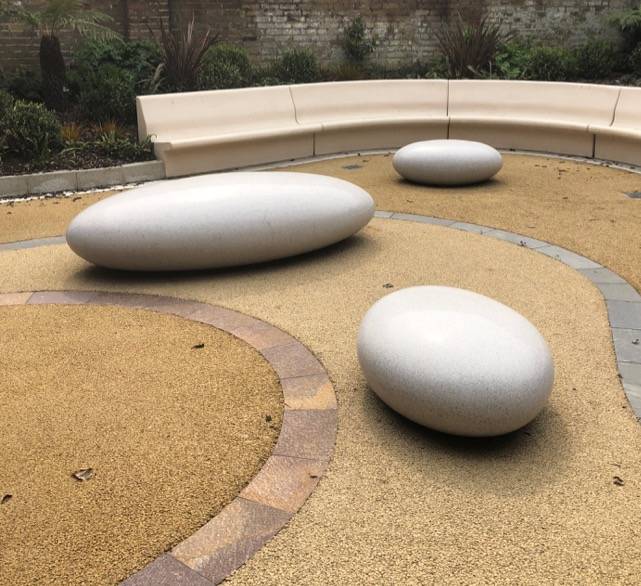 Meanwhile, our NatraTex Colour is an aesthetic magnet – one which drags people's attention towards it. Its bright colours immediately give any space it occupies a deep breath of new life – meaning that its applications are truly endless. In the past, we've had success installing NatraTex Colour in such locations as The Rolls of Monmouth Golf Club, the Duke of York Square in London, and Selly Oak – near the heart of Birmingham.
Regardless of the surfacing product you choose, when you choose NatraTex, you are choosing a quality coloured tarmac alternative that you are sure to be extremely pleased with.
NatraTex's Accreditation
During our time as a company, we have accrued a number of official accreditations and memberships — including the Road Emulsion Association (REA) and the Road Surface Treatment Association (RSTA). As a result, you can purchase our product, safe in the knowledge that you have purchased strong, quality material.
NatraTex Colour, NatraTex Eco and Natratex Cotswold Coloured Surfacing
Our NatraTex Cotswold (pictured above) has a powerful hue that stands out against the otherwise black tarmac, making it excellent for use as coloured paving. Furthermore, the product's longevity and durability are second to none. Like all our coloured tarmac products, there are a wealth of reasons to choosing our materials over the others:
It looks good
It's cost effective
It's quick to install
It's proven
It's long lasting
It's maintenance free
It's safe
Likewise, our NatraTex Colour range (pictured below) offers bright and beautiful colours, designed to grab the attention, be as aesthetically pleasing as possible, and make their presence known — making it the ideal product for bus lanes, tennis courts, and a wide range of other installations.
Meanwhile, our NatraTex Eco product offers all these advantages while also being as ecologically friendly as possible. This makes it ideal for green spaces, such as parks.
Get In Touch With NatraTex Today
To learn more about our products, you can check out our full range of Natratex and NatraTex Colour coloured asphalt. Our team of dedicated staff are always happy to help, whatever the challenge. If you have any questions, queries, or for a personalised quote – please get in touch!