Decorative landscaping can transform an outdoor space into an attractive area through the installation of hard landscaping structures and finishes. Dividing a space up into carefully proportioned and planned zones that are connected and flow from around a building is key to linking the outdoors with the indoors.
For garden spaces, homeowners will want to consider pathways, driveways and general landscaping features. Often, a key component in this is landscaping aggregates such as pebbles, slate and gravel, particularly when it comes to footpaths and driveways. However, these forms of decorative landscaping solutions are not the only ones available to you.
NatraTex is a synthetically bound aggregate available in a range of warm tones and colours to complement any domestic or commercial outdoor setting.
This durable and hard-wearing surface course is regularly used in recreational, regeneration, retail and residential projects. For example, it has recently been used as a key design element in school gardens and for larger communal spaces too. Its versatility is also proven to sit alongside listed buildings and new builds alike thanks to its adaptive nature and colours, many of which are sympathetic to the surrounding environment.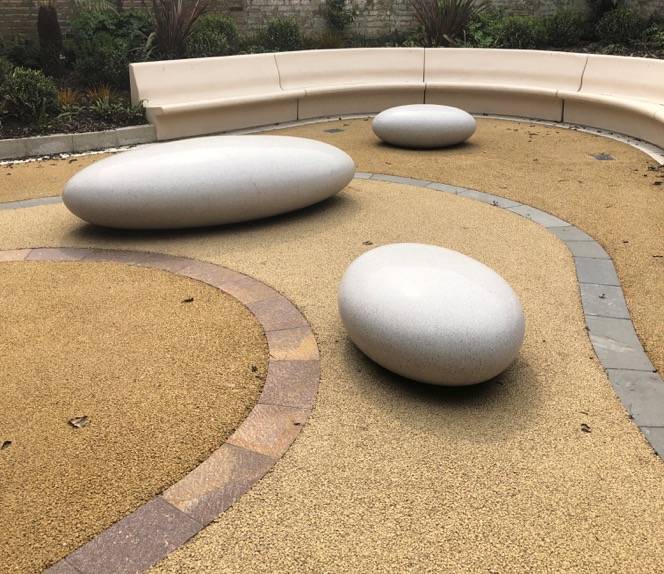 While a firm favourite for many projects, decorative landscaping doesn't have to be made up of just earthy tones and natural colours. There are plenty of occasions where the project at hand calls for more vibrant decorative landscaping. While you might not often see reds, blues and yellows in conventional gardens, these tones are just the ticket for brightening up children's playgrounds or demarcating a specific area of road, such as cycle paths.
For this reason, we have a wide range of coloured paving and coloured asphalt available right here from the BituChem Group.
NatraTex Colour and Natratex Cotswold Decorative Landscaping
Both of our NatraTex Colour and NatraTex Cotswold surface course ranges are made to preserve their colour against even the harshest of natural elements. The flagship NatraTex surface course combines key ingredients from our other decorative landscaping products to create a durable, fully-bonded, natural aggregate wearing course that is available in a wide range of different colours and finishes.
Both NatraTex Cotswold and NatraTex Colour are highly flexible in terms of their usage. They have both been widely used in the creation of roads and decorative paths in both public and domestic sectors. They're also the ideal solution for decorative landscaping as they offer such a wide choice of colour, from neutral tones to vibrant colours, leaving many possibilities for multiple colours. A great example of NatraTex Colour being put to good use is on MUGA surfacing and all-weather sports pitches, where key sections require a different coloured surface to allow for users to play different types of sports.
Advantages of Decorative Landscaping
There are many advantages to using decorative landscaping in your commercial, industrial or domestic projects. Natratex surfacing for decorative landscaping in particular is:
Hard-wearing
Low maintenance
Eye-catching
Smooth
Cost-effective
Quick to install
Durable
Resilient to all weathers and uses
If you would like to learn more about NatraTex and its benefits, our CPD sessions are a fantastic way to start! In these workshops, our friendly team will talk you through the core benefits of NatraTex Cotswold, NatraTex Colour and NatraTex Eco. We'll also share with you detailed case studies of how NatraTex has been used to great effect in a range of decorative landscaping projects, and provide tailored advice and recommendations based on your needs.
Request A Sample & Learn More About Decorative Landscaping
If you would like to learn more about our surfaces courses for decorative landscaping projects, request a free sample of NatraTex here today. Our samples will give you real-life insight into the look and feel of NatraTex and how it can be used in your project.
To arrange a CPD session with us, or learn more about NatraTex surfacing, contact us today. Our dedicated team of staff are always happy to help, no matter the challenge.
Knowledge Hub
Learn more about decorative landscaping through our dedicated Knowledge Hub. Can't find an answer to your question? Take a look at our FAQ page or contact us to speak to our team.