Decorative Landscaping from NatraTex:
Decorative landscaping can transform an outdoor space into an attractive area through a process of hard landscaped structures and finishes. Dividing a space up into carefully proportioned and planned zones which are connected and flow from and around a building are key to linking the indoors with the outdoors.
For garden spaces, homeowners will want to consider pathways, driveways, and general landscaping features. Often a key component in this are landscaping aggregates such as pebbles, slate, and gravel. However, these forms of decorative landscaping are not the only solution.
NatraTex is a synthetically bound aggregate which has a range of warm tones to compliment any domestic outdoor setting. It has also been used to form a key design element in school gardens and larger communal spaces too. Proven to sit alongside listed buildings and new builds this is a very adaptive material.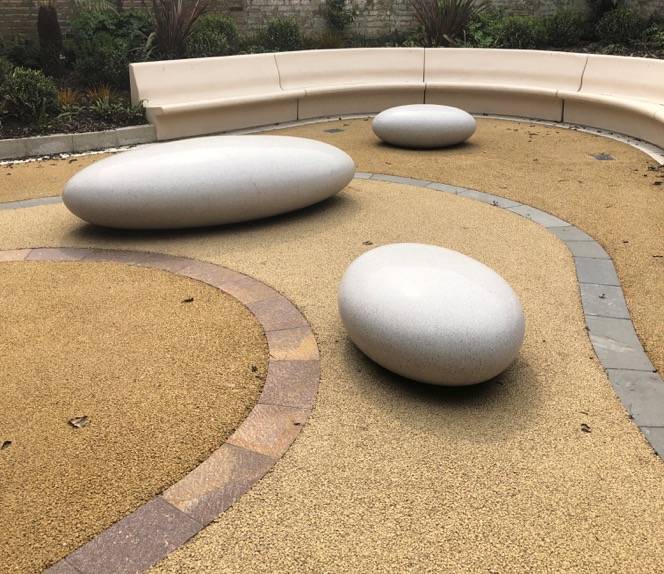 Decorative landscaping doesn't have to be all 'earth tones' and 'natural colours'. There are plenty of occasions when something more vibrant is needed; red and blues and yellows that you wouldn't see in a conventional garden, but are just the ticket to brighten up a children's playground or to surface a specific area of road. It's lucky for you that we have a wide range of coloured paving and coloured asphalt available right here.
NatraTex Colour and Natratex Cotswold Decorative Landscaping:
The NatraTex Colour and Natratex Cotswold ranges are both made to preserve their colour against even the harshest of natural elements. NatraTex is our 'flagship' product; it combines the key ingredients from our other hard landscaping products to create a durable, fully bonded, natural aggregate wearing course that is available in a range of different colours and finishes.
Both the NatraTex Cotswold and NatraTex Colour ranges are highly flexible in terms of their usage; they have both been used widely for roads and paths in both the public and domestic sectors. They're the ideal solution to decorative landscaping as they offer such a wide choice in colour, leaving many possibilities for multiple colours, for example on MUGA surfacing where each sport requires a different coloured surface.
Advantages of Decorative Landscaping:
There are many advantages to using decorative landscaping in your commercial, industrial and domestic project. One of the main strengths of our decorative landscaping is it's hard wearing and maintenance free finish. You can receive brightly coloured landscaping which will retain its bright colour and durability, with minimal upkeep. In addition to this, it's quick to install, ensuring that the area isn't out of use for long periods.
Find out more about decorative landscaping:
Convinced? We thought you would be. You can view our full range of NatraTex Cotswold and NatraTex Colour decorative landscaping and request a sample here on our website. We also have a dedicated team of staff who are always happy to help, no matter the challenge. If you have any questions, queries, or you're looking for a quote – get in touch!