Encourage A Child's Imagination With NatraTex 
Science has shown the benefits of playgrounds again and again. They nurture brain development, build strength and encourage a healthy lifestyle, allow young children to get away from technology for a while, and support emotional growth. Such an important location deserves a high-quality surfacing solution. 
Coloured Playgrounds from the NatraTex
NatraTex is that high-quality product, and coloured playgrounds are the perfect application for NatraTex. 
Our surfacing products have been designed to be as durable as possible. This ensures a long-lasting, health and safety friendly playing surface. Children all over the UK love playing on NatraTex surfaces, just as people all over the UK appreciate NatraTex's surfacing products. 
Decorative Landscaping From NatraTex 
Over our decades long history, NatraTex and the BituChem Group have amassed a wealth of experience and understanding of what makes a good surfacing product. 
Today, we are accredited members of both the Road Emulsion Association (REA) and the Road Surface Treatment Association (RSTA). That means you can feel confident in the quality and craftsmanship that's emblematic in our landscaping and surfacing work. Our range of Natratex Cotswold, NatraTex ChipTex, NatraTex Eco, and NatraTex Colour surfacing are developed specifically to be the highest quality surfacing that you can buy – making them ideal for surfacing coloured playgrounds.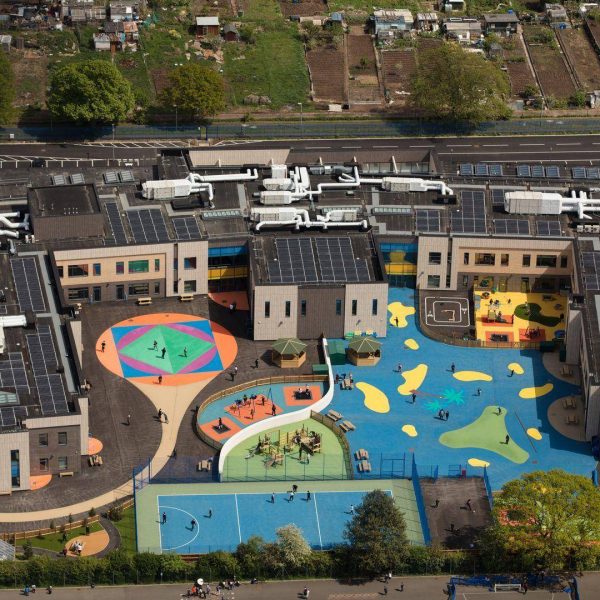 NatraTex Coloured Playgrounds:
Our NatraTex Colour (pictured above) has bright and lively hue complements its use in playgrounds – but also for demarcation of cycleways and disabled areas. 
Like all our surfacing products, there are a wealth of reasons to choosing our products over the alternatives. Our NatraTex Colour products are perfect for coloured playgrounds, MUGA Surfacing or School Surfacing as the high grip of the surface has considerable anti-slip properties. At the same time, you also won't have to worry about maintaining your coloured playgrounds, because of its low maintenance finish.
With all of its strengths, it's no wonder that we're so confident in NatraTex Colour and its ability to provide the best surfacing for coloured playgrounds.
Alternatively, our range also includes NatraTex ChIpTex. ChipTex looks like traditional wood chip without any of the drawbacks of using wood chip. Unlike wood chips, ChipTex doesn't require constant maintenance. Nor do you have to worry about moisture or fungi building up. ChipTex is wheelchair friendly, meaning that all children have access to the playground. At the same time, you can add line markings to NatraTex ChipTex –  meaning that you can use it as a multi-sports field  if you want to. 
These benefits make NatraTex ChipTex and NatraTex Colour two of the best surface products out there for people looking to create a coloured playground or outdoor space for playing.
For More Information About Our Products
To learn more about our NatraTex's coloured tarmac-alternative products, check out our full range of products today. 
NatraTex is quick to install, so you could have your coloured playgrounds or surface fitted in no time! Our team of dedicated staff are always happy to help, whatever the challenge. 
If you have any questions, queries, or are looking for a bespoke quote – get in touch with us today.
Knowledge Hub
Learn more about coloured playgrounds and playground surfacing through our dedicated Knowledge Hub. Can't find an answer to your question? Take a look at our FAQ page or contact us to speak to our team.