Schools are at the heart of a community. They also play an all-important role in education, inspiring and developing the next generation. A vital job indeed! When it comes to creating environments for learning and development school surfacing is a vital hard landscaping element. This infrastructure covers playgrounds, MUGA's, car parks, footpaths, driveways and delivery zones. In short, everything related to the daily routines of a school relies on its surfacing.
As well as this, schools and their facilities are used far beyond the expected 9am-3pm. Breakfast and after school clubs, sporting activities, recreational activities and adult learning make them a hive of activity almost constantly. Therefore, exceptionally durable surfacing in outdoor areas of a school is essential.
NatraTex School Surfacing
This is where both NatraTex Cotswold and NatraTex Colour come in. Both school surfacing options are:
Capable of withstanding heavy footfall and traffic

Cost-effective

Easy to install

Easy to maintain

Available in a wide range of colours and tones

Used in schools across the UK
Throughout the years, we have worked with architects and contractors to develop and construct new schools. We have also worked in collaboration with both public and private schools at all levels to regenerate and improve existing school surfaces. The finished result of these types of projects bring a huge amount of benefits to pupils, staff and visitors for many years and generations to come.
School Surfacing Options and Inspiration for Your School
Architects and designers choose NatraTex because it's cost-effective, low-maintenance and aesthetically appealing. For schools, it provides a whole range of benefits which places it ahead of common alternatives. Here are just a few inspirational examples of how NatraTex has been utilised within primary and secondary schools across the country:
Playground Surfacing
Marjory Kinnon School – The Marjory Kinnon School is in Feltham, Middlesex. A school for students aged 4-16 years with special educational needs, this project was awarded to Farrans Construction in 2016. For this project, a bright and vibrant colour palette was specified to create a fun and welcoming environment. Further to this, the surfacing solution used is porous and free draining in line with the topography of the site. As a result, NatraTex Colour was chosen for the creation of both the playground and the MUGA, while NatraTex Cotswold was used to create accessible footpaths.
Fossebrook Primary School – The new Fossebrook Primary School was developed by Leicestershire County Council for early years students. NatraTex was specified by the appointed landscape architects, MeiLoci, for the coloured playground. In this project, NatraTex Cotswold and Natratex Colour were used to create an informal demarcated area in the playground.
School Driveways
Edgbaston Preparatory School – NatraTex Red provided a durable surface for the driveway leading to this Birmingham school. The area immediately around the white school building makes a bright statement, while the colour also stimulates vigilance as this is also the pick-up and drop-off point for pupils. Specifically chosen as a complimentary contrast to the green of the playground area, this is a great example of practical and decorative coloured surfacing
School Gardens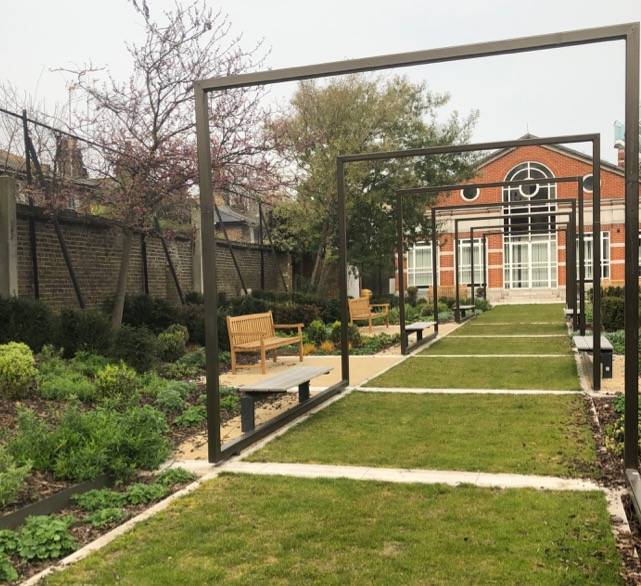 Hammersmith, London – This grade 2 listed building needed a sympathetic and suitable type of surfacing for the hard landscaping of the school gardens. Similarly, the area should be a place where students can relax and take time out in an area specifically designed for reflection. NatraTex Cotswold provided the perfect solution. Stylish warm honey tones of the Cotswold stone aggregate combine perfectly with the architecture, the seating and the planting at this girl's school in Hammersmith.
Contact NatraTex for School Surface Solutions
Every school is different and will have different requirements depending upon the needs of the school community. Therefore, NatraTex school surfacing is a high-quality solution. It delivers on style, durability and aesthetics which makes it a popular choice for architects and landscapers working within the education sector.
Discover more about our innovative and colourful school surfacing by booking a CPD presentation, requesting a sample, reading our FAQ page or simply contacting us with any queries.