At Bituchem, we specialise in supplying MUGA surfacing to schools all over the UK, with a first-class track track record to prove it.
We don't just supply the markings; we supply and install the entire surface.  NatraTex has a huge range of colours and options to from which to choose, including our NatraTex Colour and our NatraTex Cotswold products. Artificial and outdoor games areas,  such as MUGA surfaces and other coloured playground areas, have become hugely popular in recent times thanks to their versatility and the aesthetics qualities they possess.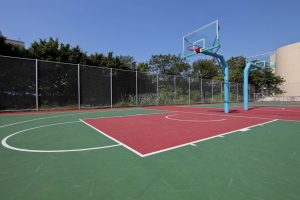 UK Leading MUGA Surfacing
Whatever the size of the area you need resurfacing, Bituchem and NatraTex can help.
Our coloured surfacing products range from natural colours to vivid blues and reds to make it really stand out — making  our decorative landscaping and MUGA surfaces some of the most beautiful in the country.
We do all the line markings too, so you can have up to six sports layouts on one surface!
Playing on a MUGA surface is a breeze. The lines are all very distinct and marked with contrasting colours to stand out when in use. And the products used to make MUGA surfacing are all completely weatherproof and will stand up to rain, snow and sunshine. MUGA surfacing can be laid any time of the year,  regardless of the weather.
NatraTex also incorporate a special surface finish which gives a smooth texture, avoiding serious cuts or grazes following accidents.
Choose Bituchem for Your MUGA Surfacing
We have decades of experience in the surfacing business and hundreds of successful projects to our name so far. In addition, we are priced extremely competitively and always try to find an effective solution no matter the size of your budget. MUGA surfacing is one of the most cost-effective ways to make the most out of your space and also encourages regular and varied physical activity amongst pupils.
To find out more, get in touch with NatraTex today to discuss your project in more detail.
Knowledge Hub
Learn more about MUGA surfacing for schools and leisure centres from NatraTex through our dedicated Knowledge Hub.
Can't find an answer to your question?
Take a look at our FAQ page or contact us to speak to our team.