Park footpaths are an incredibly important part of any public natural space – whether we're talking about the local playing field, country parks, or the village park. They ensure that these spaces are accessible to all, and they help to bring communities together and generate revenue for the local economy.
Park footpaths provide an excellent opportunity for exercise as well as movement. Park footpaths can be used as decorative cycle paths, running paths, and many others. As such, these footpaths need to be designed with access in mind. They must also be durable, safe and easy to maintain. 
There is only one product on the market that satisfies all these requirements. That product is NatraTex. Scroll below to learn how NatraTex's range of high-quality coloured tarmac alternatives could be used to construct vibrant and coloured paths for parks.
Park Footpaths Make a Big Step Forward with NatraTex Cotswold
NatraTex Cotswold is a popular choice for park footpaths and recreational areas. The mellow warm tone of the natural aggregate is a perfect coloured paving solution to complement the natural world. This is particularly important in green spaces, where preserving the natural surroundings of the park or beauty spot is important while balancing accessibility needs for visitors.
An example of this balance is at a private estate in Chertsey, Surrey. The aim of this project was to create elegant footpaths throughout the landscaped gardens, which blended in with natural surroundings while providing level and safe access for users. As you'll see from the finished results, in using NatraTex Cotswold the client was able to create a sense of untouched natural beauty while opening more of the landscape up for use.
Likewise, Cheltenham Racecourse is another example. NatraTex Cotswold was the surfacing of choice for a new footpath and disabled viewing area. The coloured paving is suitable for people with various mobility needs, while its natural buff tones ensure it blends in seamlessly with outdoor environments, proving that NatraTex is perfect for both decorative paving and park footpaths, too.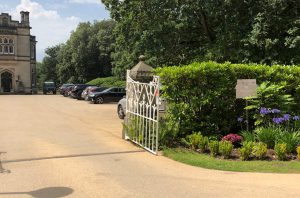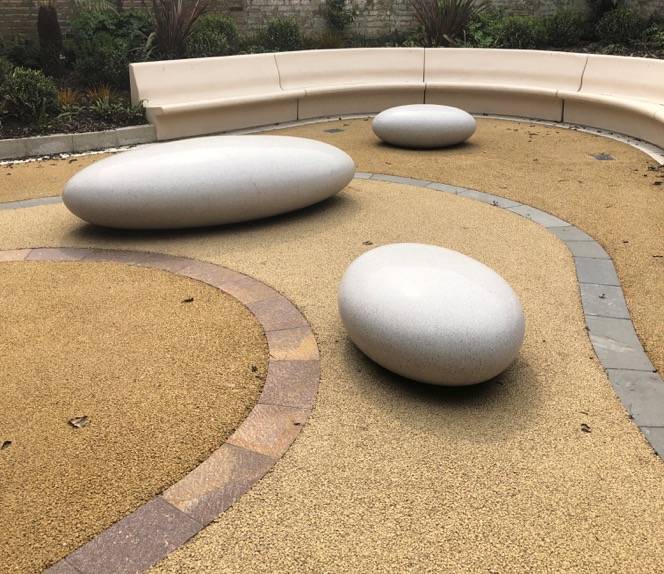 A Sustainable Path For The Future
The need for more sustainable and durable building materials is more pressing than ever. Our solution to this is NatraTex Eco, a sustainable surfacing solution made of at least 50% locally sourced recycled materials.
Sustainable infrastructure benefits the environment, economy and our communities. As a business, we are committed to pursuing sustainable alternatives which bring all the benefits of our innovation and experience to the table. NatraTex Eco is one of these alternatives. As durable and hard-wearing as our other products, it is available in a wide range of colour ranges and is suitable for park footpaths, decorative footpaths, driveways and more!
NatraTex Colour and Park Footpaths
The NatraTex Colour range features a whole spectrum of vibrant, eye-catching tones which are suitable for all types of applications –  including park footpaths, coloured cycle paths, MUGA surfacing, and coloured playgrounds.
In Newcastle-Under-Lyme, Staffordshire, NatraTex Colour was specified in the regeneration of Queen's Gardens. The park is part of a town centre redevelopment and was designed to create a valuable space for everyone to enjoy. The warm Terracotta shade was chosen to complement the vibrant flower beds of the gardens, while NatraTex was chosen for its durability.
Choose NatraTex for Park Footpaths
NatraTex's range of porous coloured tarmac alternatives has been used for park footpaths, estate roads, bus lanes, and many more installations at locations around the country. Our range of products provides better results than self-binding gravel or traditional tarmacadam. 
For more information about NatraTex's range of products, please contact us today. 
Knowledge Hub
Learn more about park footpaths and surfacing through our dedicated Knowledge Hub. Can't find an answer to your question? Take a look at our FAQ page or contact us to speak to our team.