BituChem Improves Landscape for Coleshill Park
NatraTex |
Hard-landscaping specialists, Bituchem, have recently been involved in the refurbishment of Coleshill Memorial Park in North Warwickshire.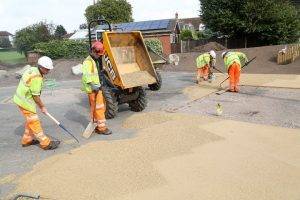 The Memorial Park is in the process of being transformed with new equipment and facilities for all ages to encourage local people to stay in the town. Bituchem's NatraTex Cotswold was specified by architects Moore Environment to provide a smooth durable surface for a new adventure playground and pedestrian footpaths.
Located in North Warwickshire, Coleshill Memorial Park's adventure playground now provides a high quality facility and a fun play area for children. Coleshill Town Council is delighted with the scheme, a spokesperson commenting "We are particularly happy with the golden colour of the pathways. It really lifts the park in these dull and dark winter days".
1200 square metres of Bituchem's 6mm Natratex Cotswold was used to resurface the adventure playground and footpaths in the Memorial park, and the project was completed in September 2016.
Specialist Decorative Paving for Coloured Playgrounds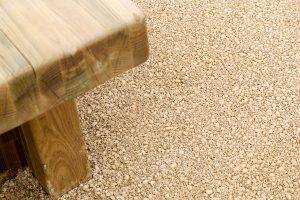 Bituchem's Natratex is the company's 'flagship' product and has been used for various applications in parks and playgrounds prior to the application at Coleshill Memorial Park, due to its safety benefits and modern aesthetics. The material is created using naturally- occurring aggregates bound with Bituchem's specialist clear synthetic binder to give it the complete compactness that it requires. The Cotswold aggregate offers an aesthetically pleasing alternative to a traditional tarmac finish, with the same long-lasting qualities as asphalt.
The hard-wearing, compact finish of Natratex has made it a popular choice for parks and playgrounds, similar to that of Coleshill Memorial Park. The synthetic binder used to create the smooth surface reduces the likelihood of the material deteriorating and causing potholes or other breakages, eliminating trip hazards and making the surface much safer for young children and pedestrians.
Further information is available from Bituchem on 01594 826768 or 07584 311266, by emailing:mark@bituchem.com or by visiting the company's website at www.bituchem.com