BituChem Creates Landscape for New Leicestershire School
NatraTex |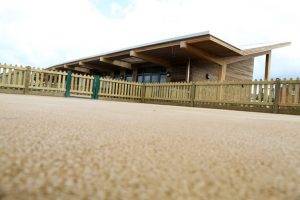 Hard-landscaping specialists, Bituchem, has recently been involved in the creation of a brand new primary school in Leicestershire.
The construction of the new Fossebrook Primary School was completed in mid-July ready to open to Foundation, Year One and Year Two students in September. The school was developed by Leicestershire County Council to provide an additional school for early-year students in the area, and is sponsored by the Discovery Schools Academy Trust.
The school was designed by Cornwall-based Kast Architects and MeiLoci landscape architects, who specified Bituchem's specialist Natratex hard-landscaping material in Cotswold and grey to create an informal demarcated area for the playground. The surfacing works was carried out by Gary Fletcher Surfacing Ltd., who have much experience of Bituchem's materials.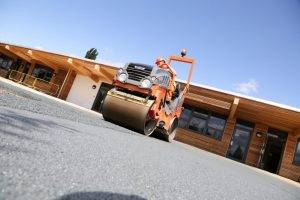 The Ideal Application for Coloured Surfacing
Natratex is Bituchem's flagship product and has been used for various applications in schools due to its modern aesthetics and safety benefits. The material was selected in grey and Cotswold for Fossebrook School to provide a varied surface for the children to play on, with designated coloured areas adding to the fun of playtime.
Melissa Ralph, Landscape Architect at MeiLoci commented, "MeiLoci are very pleased with the Natratex surfacing – a great appearance and finish. Natratex really sets off the new timber school building and the warm tones create a welcoming setting for play. I would thoroughly recommend this product and look forward to working with Bituchem again soon."
Natratex is a material manufactured by Bituchem to the highest standards to offer a seamless, high-performing solution for hard-landscaping. The material is created using naturally-occurring aggregates bound using Bituchem's specialist clear resin binder to give it the complete compactness that it requires. The Cotswold and grey coloured aggregates offer an aesthetically pleasing alternative to a traditional tarmac finish, with the same durable and long-lasting qualities as asphalt technology.
Perfect for School Surfacing
The hard-wearing, compact finish of Natratex has made it a popular choice for school playground applications. The resin binder used to create the smooth surface reduces the likelihood of the material deteriorating and causing potholes or other breakages in the surface so eliminating trip hazards and making the material smoother and safer for young children.
Natratex is a very versatile material and can be used for a wide range of applications, with a variety of colours available to suit all specifications. The material can be used for new constructions, such as Fossebrook School, as well as regeneration and overlay products. Natratex has proved to be a time and cost effective solution as it can be applied quickly and easily using conventional equipment.