Decorative Paving for Your Property by Bituchem
NatraTex |
Decorative paving can really add the "wow factor" to your property, going far beyond the standard greys and blacks that we're all familiar with in asphalt surfaces. If you're looking to resurface your paved areas, then NatraTex Cotswold and NatraTex Colour by Bituchem are the solution.
Decorative paving is the perfect option for a huge range of applications from the commercial to the domestic. Our previous clients range from multinational, blue-chip companies to public parks and residential developments. You may even have seen our work if you've visited retail and supermarket chains like Sainsbury's, Waitrose, and Safeway.
Decorative Paving Installed by BituChem
When you choose BituChem to install your decorative paving, you can be assured that we'll provide you with a first class service and finish! We have a range of options for your decorative paving, so you're sure to find the perfect coloured surfacing for your property right here.
• Natratex Cotswold – Our original formula uses natural aggregates in a clear resin to provide a long lasting and durable option for your decorative paving. Available in a choice of four rich colours.
• NatraTex Colour – Similar to our NatraTex range, but with an expanded colour palette emphasising richness and vibrancy. This formula has proven especially popular for schools, tennis courts and other sports pitches as well as parks and playgrounds. It is also ideal for creating zoning in commercial properties and car parks.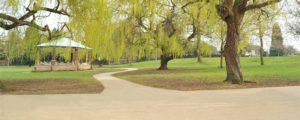 Contact Us for Outstanding Decorative Paving Options
If you'd like any further information on our decorative paving options, then please don't hesitate to get in touch with our team! They're always happy to talk the options over with you and find the perfect surfacing option for your project, and can offer pricing information.
You can also take a look at the projects showcased in our portfolio, and if you'd like, you're welcome to request a sample of our paving formula and we'll post it to you!