Resin Bound for Success! Choose a NatraTex Alternative
NatraTex |
Our substitute to resin bound surfaces have formed the basis for a wide variety of hard landscaping projects. At Bituchem Asphalt Ltd, we put ourselves in your shoes to get a better understanding of your project and its requirements. We take pride in helping our customers achieve a successful project.
Unique Substitutes to Resin Bound Surfacing from Bituchem
Replacements to Resin Bound Surfaces for the Public Realm
Thousands of people walk along our substitutes to resin bound surfaces each day. Parks and open spaces are proven to be beneficial to the health and wellbeing of the population. A place where the public can access green space within today's urban and city environment is only made possible using modern surfacing. Creating a smooth and level pathway suitable for access on foot or in a wheel chair, while being porous enough to allow surface water to drain away are all part of the planning process. See examples and case studies of where our resin bound surfaces have been used within the public realm.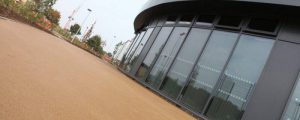 Alternatives to Resin Bound Surfaces for Commercial Locations
Retailers understand that the shopping experience starts when you park your car and not just when you set foot into their store. Bituchem has a proven record of working with developers of retail parks. We provide durable resin bound surfaces which help to manage the flow of visitors. Our coloured surfacing products help to distinguish pedestrian and vehicle zones. They also create a pleasant environment to be in for shoppers – see examples and commercial case studies in our portfolio.
Substitute Resin Bound Surfaces With NatraTex in the Education Sector
Schools, colleges, and universities have all benefitted from Bituchem's resin bound surfaces. Our education clients have all used Bituchem products to create a safe and well planned area for students and pupils. MUGA surfacing creates a dynamic colourful area for multi sports and games. See education sector case studies in our gallery.
Great Service and Quality Replacements to Resin Bound Surfaces
Bituchem is heavily customer focused. We will do our utmost to ensure you get the right alternative product to resin bound surfacing for your project. To request samples or to find out more please contact us.